Reading Time:
6
minutes

Namaste!
Autumn, 2016 I just returned from Nepal, a place I'd always dreamed of. Home to the world's highest mountains; I had envisioned the impressive photographs I would take. But when they say you go for the mountains and come back for the people, they are right.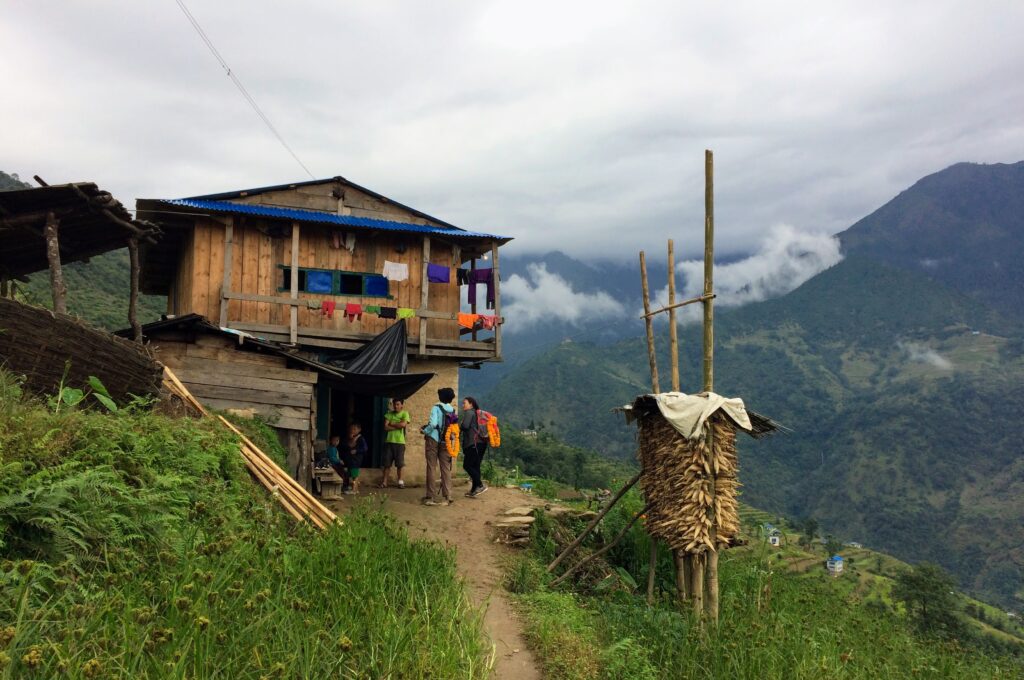 I finally got my chance when my longtime pal, Mary Jo, invited me to join a women's trekking group. She's a great traveler: inquisitive, generous, and organized, whereas I am only inquisitive. I am also acquisitive, greedy about experiences, conversations – and photographs. A joke from the film era: a man is asked how his vacation was. He says, "I don't know; I don't have the pictures back yet." There's a difference between vacations and journeys: our vacations end but our journeys continue.
With Mary Jo's friends and guides, Lakhbir and his wife Chodi at Nature Adventures Trekking, we planned to camp in October (erroneously reported as "crystal clear") in the Solukhumbu region in the foothills of the Himalayas, sometimes staying at rustic teahouses. We also planned to visit the school we're supporting, and Lakhbir and Chodi's homes. It was to be an intimate cultural journey. Everest Base Camp Trek it is not.
There is just one rule: no whining. As a mother of three sons, a women's trek sounds like a trip off the planet, and for most of us (ages 52-78) it's a pilgrimage. Didn't Virginia Woolf say something about a tent of one's own?
And then, one day, we were there. Flying out of Kathmandu, we scanned the land below, the crazy uptilt of the world's biggest tectonic crash. Rivers rushed wildly into the chaos. There's nothing flat in this beautiful impoverished and earthquake-shaken land but hand-built green terraces – and the tiny Phaplu airstrip. Prayers for a safe landing. Ironically, Sir Edmond Hillary climbed the world's highest summit and lost his wife and daughter here in 1975.
Two thousand (okay, maybe 30) porters greet us with generous smiles and 'namasates'. In a reversal of male stereotypes, the "boys" (some just 16) will carry, cook, clean, put up tents, make tea and tend to us. Tend! Their cheerful care, at first seems disconcerting, then liberating.
The world begins and ends right here…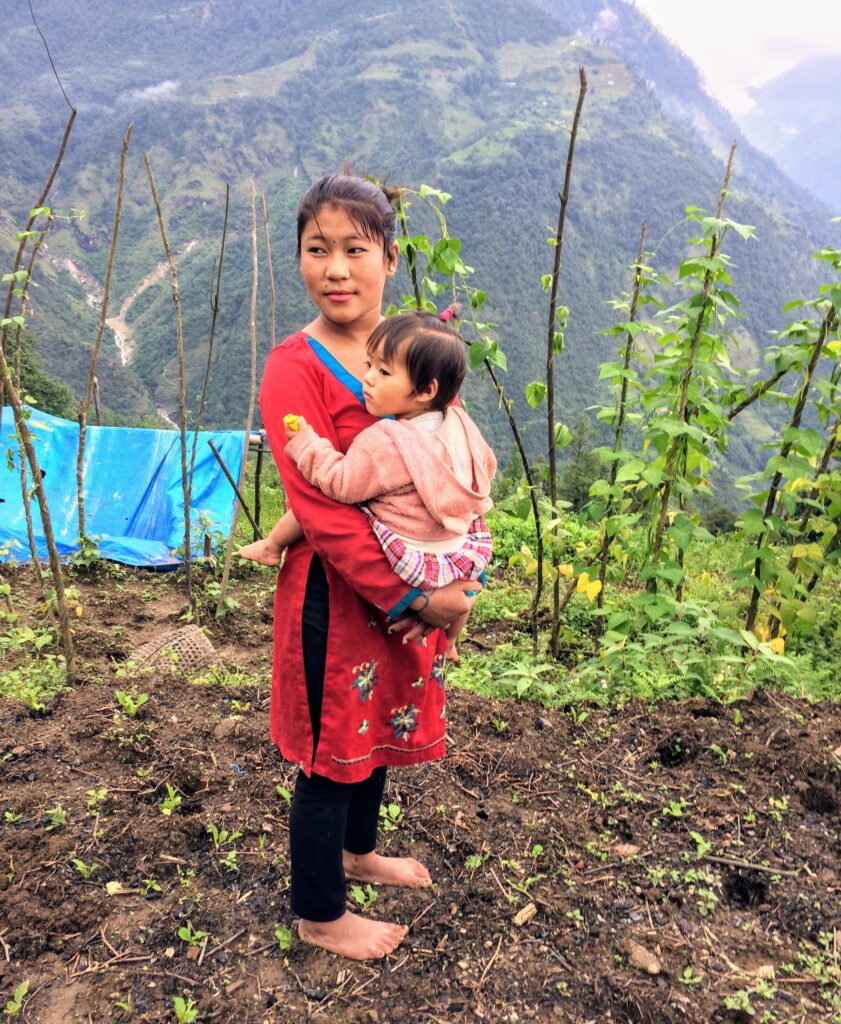 I think, as we settled into a rhythm: Eat. Walk. Talk. Photograph, repeat. My Nikon's digital eye captures lush imagery: cosmos, oxen, and waning gardens. A child in pink pajamas hides behind her mother's leg. Bigger kids, walking to school through rhododendron forests holler "Hello! How are you!" and giggle. Mangy dogs nap in blue doorways (Nepalese blue, not unlike the hue of our doors back home in Taos). We're caught between a herd of goats and a mule train — a Nepalese traffic jam – at the suspension bridge when my bulletproof Nikon freezes, apropos of nothing. And there is no way to keep my iPhone battery restored.
I panic.
How will I collect, keep?
How will I know I was here?
Memory slides and slips like we do on the muddy hillsides. We try anchoring ourselves with trekking poles. A small barefoot boy climbs up the trail, dwarfed beneath the enormous basket of firewood on his back. Spying us, he drops the bundle, sliding otterlike down the mud; whooping and hollering. Show off…
I'll have nothing to show for it without the freeze-frame of those moments clicked into my camera. Slowly the experience morphs. I even hear things, random snippets of conversation, like Monnie and Patty's: "When I die, just take me to the vets." And I laugh at the ephereralness of it all. I hear about Kelly's dilemma: splinting Lakhbir's mother's arm — with a boxtop and a sacred kirthan (scarf), since there is nothing else. Is that okay? I recall the sharp scent of ceremonial marigold wreaths adorned solemnly about our necks by children in gratitude for our contributions to their school. We are their honored guests, though feeling shamefully unworthy, I just fall apart… I hear the peal of kids laughter afterwards as they crush us at volleyball.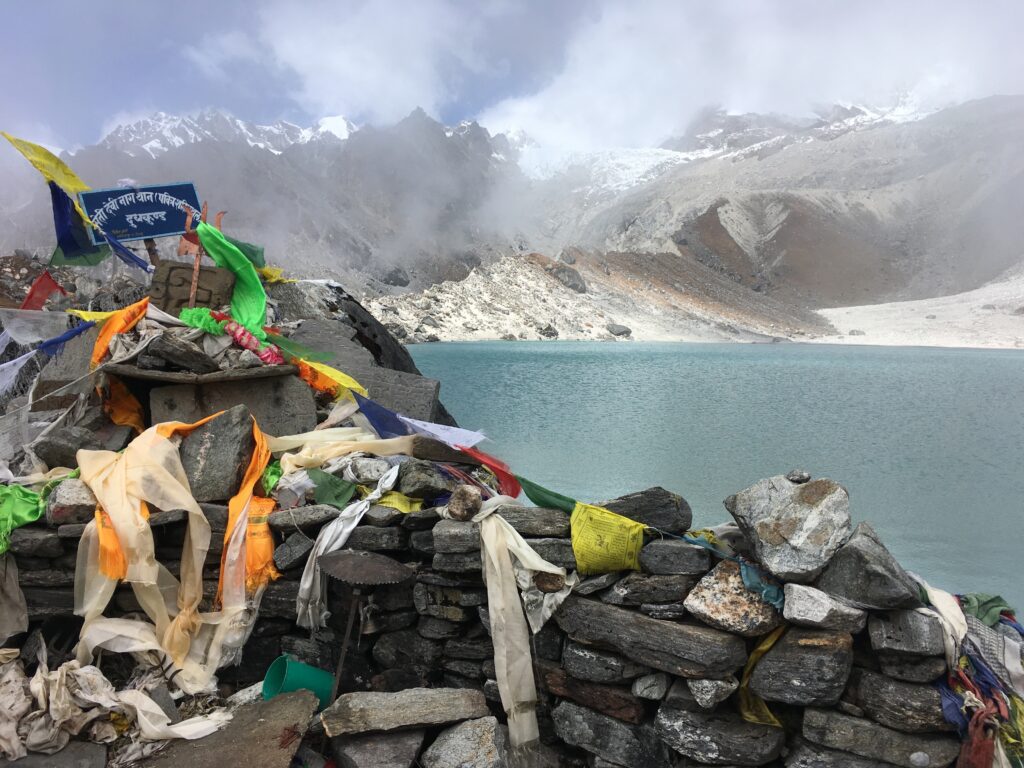 Sacred Milky Lake: prayer flags flutter at 15,000 feet. I'm reminded once again of sacred sites at home… Taos Pueblo's own holy Blue Lake sits almost exactly on the other side of the planet from where I find myself now. Almost a world away, yet dappled with the same kind of dramatic beauty. According to edict at the foot of snowy, glowing Numbur Himal, I pray for what I need: to lessen a major grievance. It works. I listen at monasteries to the din of chanting, horns, and conch shells. The sound of silvery crescendos of bells at the Tibetan Refugee Camp, evoking birds rising from a clear, still lake. I consider the nuns, with shaved heads and aubergine robes, in contrast to my own vanity. I learned from falling flat on my face in the mud after tripping over a tent stake in the rainy dark after hiking eleven hours and saying "I'm fine." I learned that it's okay to sob privately in my tent, because, after all, I'm simply pushing another one of life's emotional reset buttons.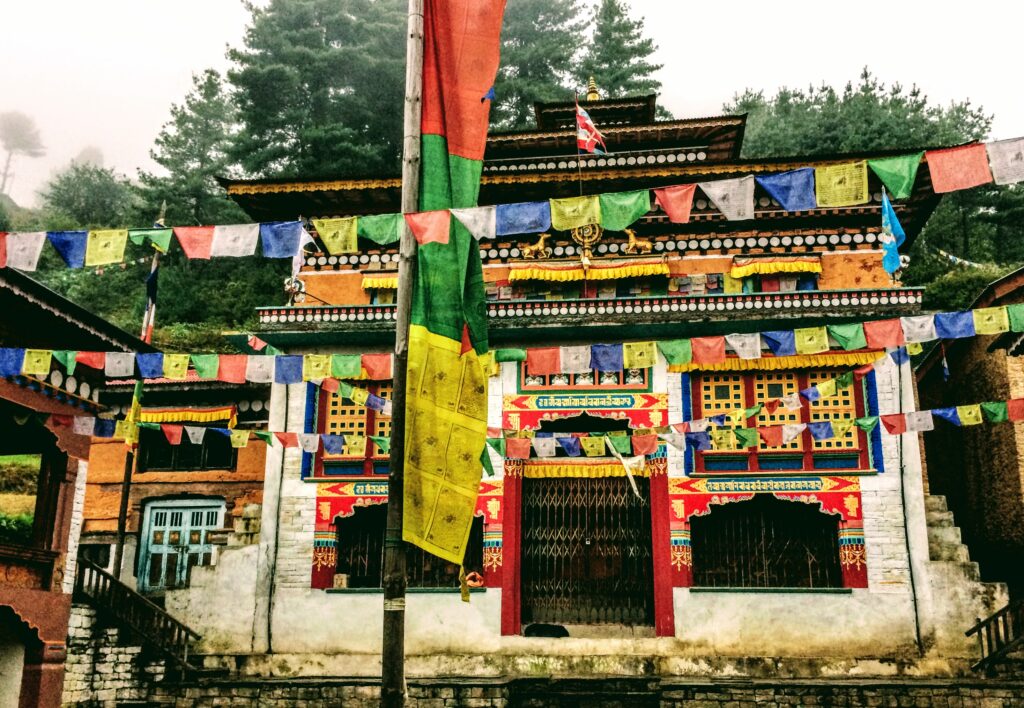 Experiences become inextricably bound up with places, like the yak pasture, "Yakitori Promontory" where the clouds below boiled up like actual gilt-edged beings, so animated I wanted to name each one. I recall waking up in a soggy cold tent surrounded by yak shit (minus the "pies" we'd thrown off, like Frisbees, the night before), feeling so happy I thought the tent would levitate. And I remember our last night back in Phaplu, all "guests" and "hosts" together singing and dancing under a yak-cheese colored moon.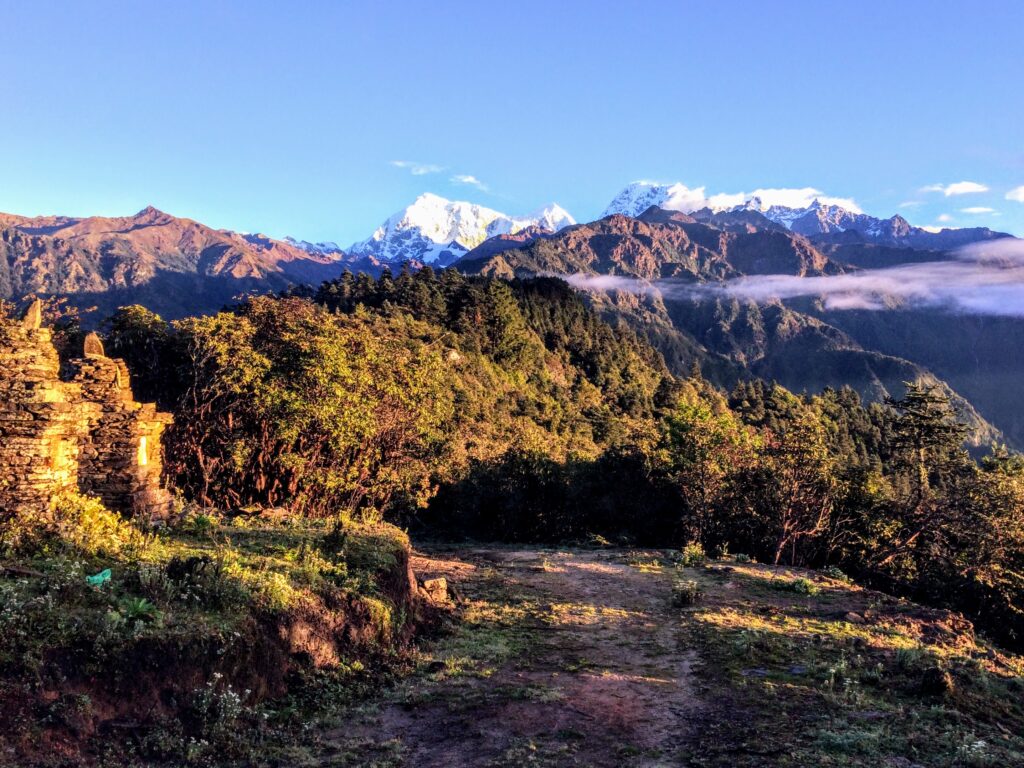 Then, like the clouds, my friends vanished back in Kathmandu. I stayed. "Be careful what you wish for," I thought, after I'd opted for a week by myself. Too late. My worst fears of being sick and alone on the other side of the world manifested with the onslaught of giardia.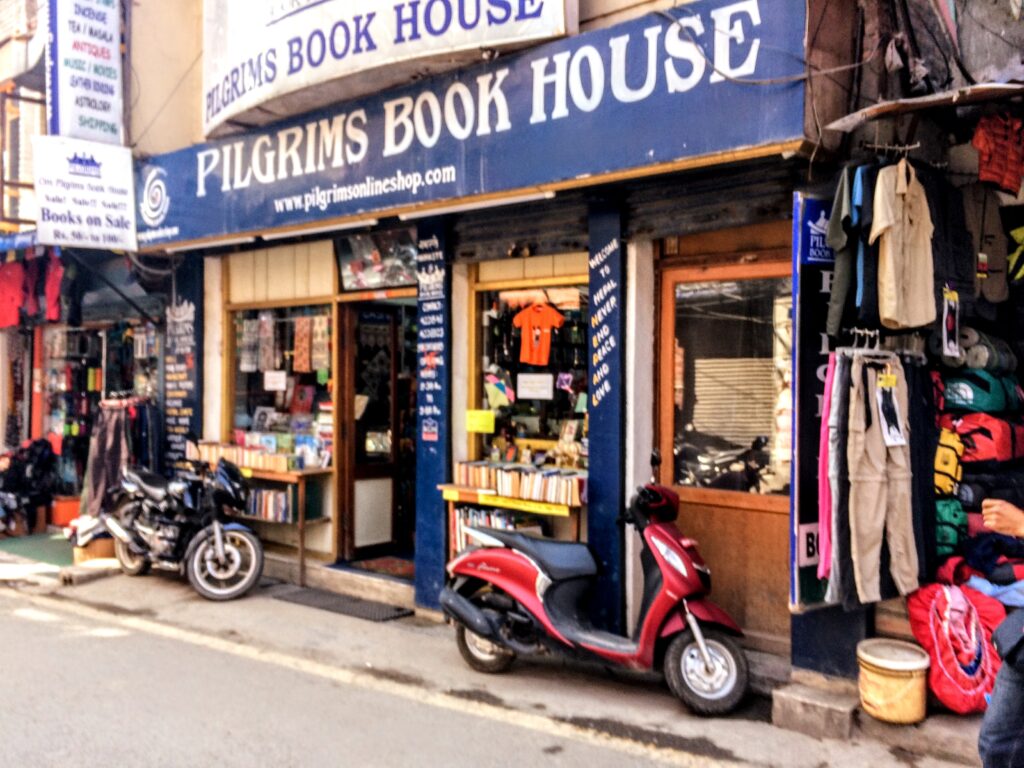 Too sick too move, I learned that miracles can manifest too. I was saved by some tiny blue pills from a pharmacy, wrapped in scraps of the Kathmandu Post. I managed to get my camera fixed. And I am also always saved by books. The legendary Pilgrims Bookstore had literally risen from its ashes and relocated right down the block.
Lonely Planet tells me about a place called Nagarkot an hour or two away. "[It] Only exists because of the views… but those views!" From Dhaulagiri to Mt. Everest to Kanchenjunga, the list of who's who in famous mountain peaks can all be seen from there. I am soon underway. The road becomes steep, rutted, impeded with goats, rutted with rivers, lined with trash.
The driver asks, "Where to?"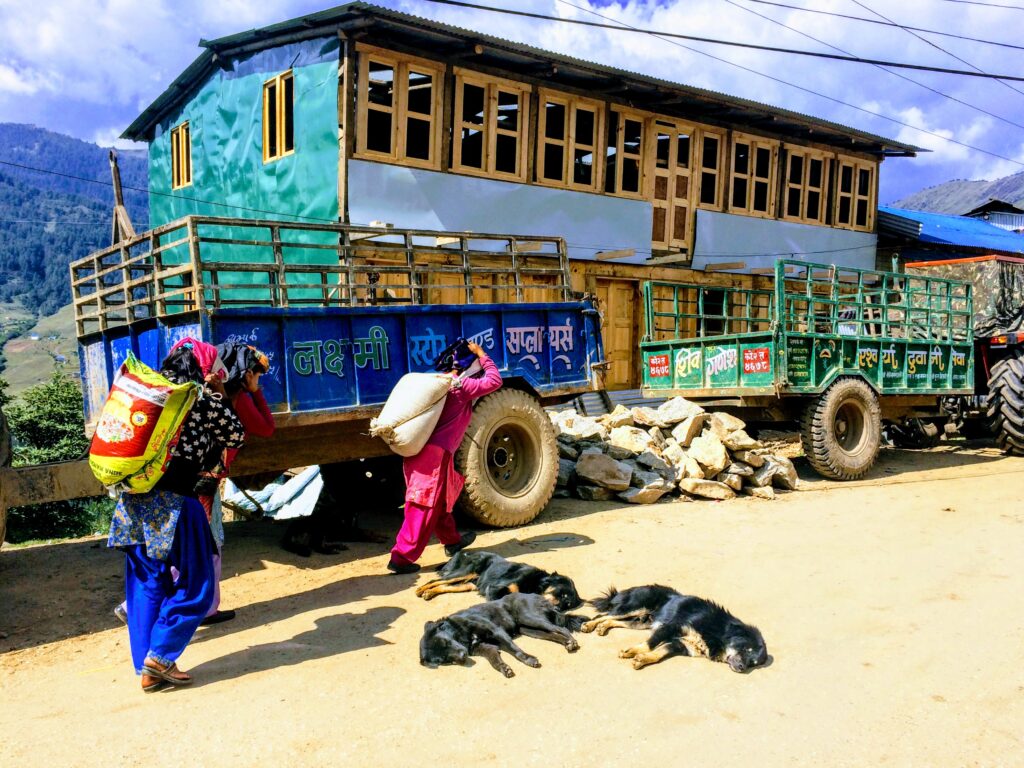 "The Hotel at the End of the Universe," I say, because it's the only name I can remember. At last, I hike up to a funky-cute mix of bamboo and earth buildings, not unlike Taos' Earthships. And they let me in. I meet a man from Corvallis, Oregon, whose mother lives a mile from my own.
Meanwhile, I have gone, quite literally, to the ends of the earth, lured by the grand views which I think are necessary to complete my experience. The mountains stay stubbornly shrouded. Then it clears. I take one, two, three pictures when my newly repaired Nikon dies again. I want to scream.
But hadn't I already been to Milky Lake? The place where prayers are answered; the most beautiful place in the world… When I get back home, I realize my own vision has expanded too; that I already live a wonderful life in the most beautiful place in the world. Was it Milky Lake that took my regrets away?

Many thanks to my dear friends for lending out their cameras during this fantastic adventure, allowing me to capture the few photographs in this post.
I hope to travel with you again soon.