When I was a teenager, nothing saved me like Simon and Garfunkel, particularly Simon, and more particularly, "Bridge Over Troubled Waters." A lonely fifteen-year-old who had just moved cross country from South Dakota to Oregon (only the mountains) and Simon and Garfunkel saved me from jumping off the Hawthorne Bridge into the Willamette River. Outside the Portland Coliseum, hours before their concert, I spied my teenage idols and skedaddled over. Simon saw me coming. After informing him that I was, in fact, his biggest fan, he looked into my eyes with his own brown ones, took my hand in both of his and said, "I'm so glad you're here." Who could forget the kindness that emanated from those warm hands? I never did.
Simon was a bridge helping me across to the other shore, as was his music. We all need bridges to get from here to there. Maybe my life is a bridge. Maybe I can or maybe I can't get you across to the other side, but I do intend to help you get to the other side might help.
We drive across bridges all the time, forgetful of how difficult it would be to get across if that bridge did not exist. On a warm March morning, which later became known as Bloody Sunday, John Lewis and 600 others tried to march across the Alabama River from Selma towards Montgomery across the Edmund Pettus Bridge to gain voting rights. John was the first to get his head bashed in.
That bridge has become a huge site of memory, infamy, and bravery. The bridges are what join different sides together. Most of life's conflicts are multi-faceted; many perspectives provide us with ways to creatively see how best to avoid conflict.
The bridge is where differing perspectives meet. I have made it my mission to see as many as possible; to hear as many voices as possible in pursuit of finding the stories that mean something to all of us.
Category:
Bridges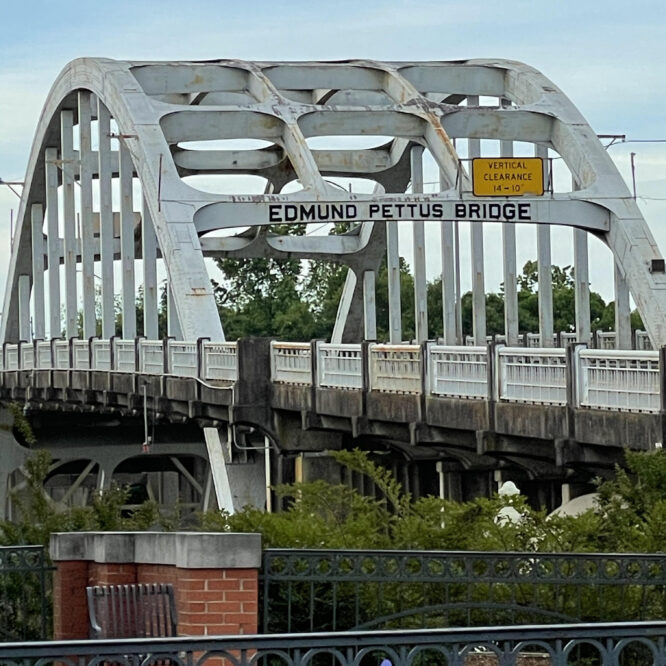 The day fades as we drive our VW camper over the Edmund Pettus Bridge into Selma. We've just left Montgomery,