Reading Time:
6
minutes
While I was climbing Mount Etna, I got a horrible cold. It was so bad, in fact, that I lost my voice altogether. No Italian, no English, no nothing. It became a source of comic relief when I returned to Rome, ready for a few days of relaxation before heading back to the U.S. There was nothing more I had to see or do, no one else to be but me.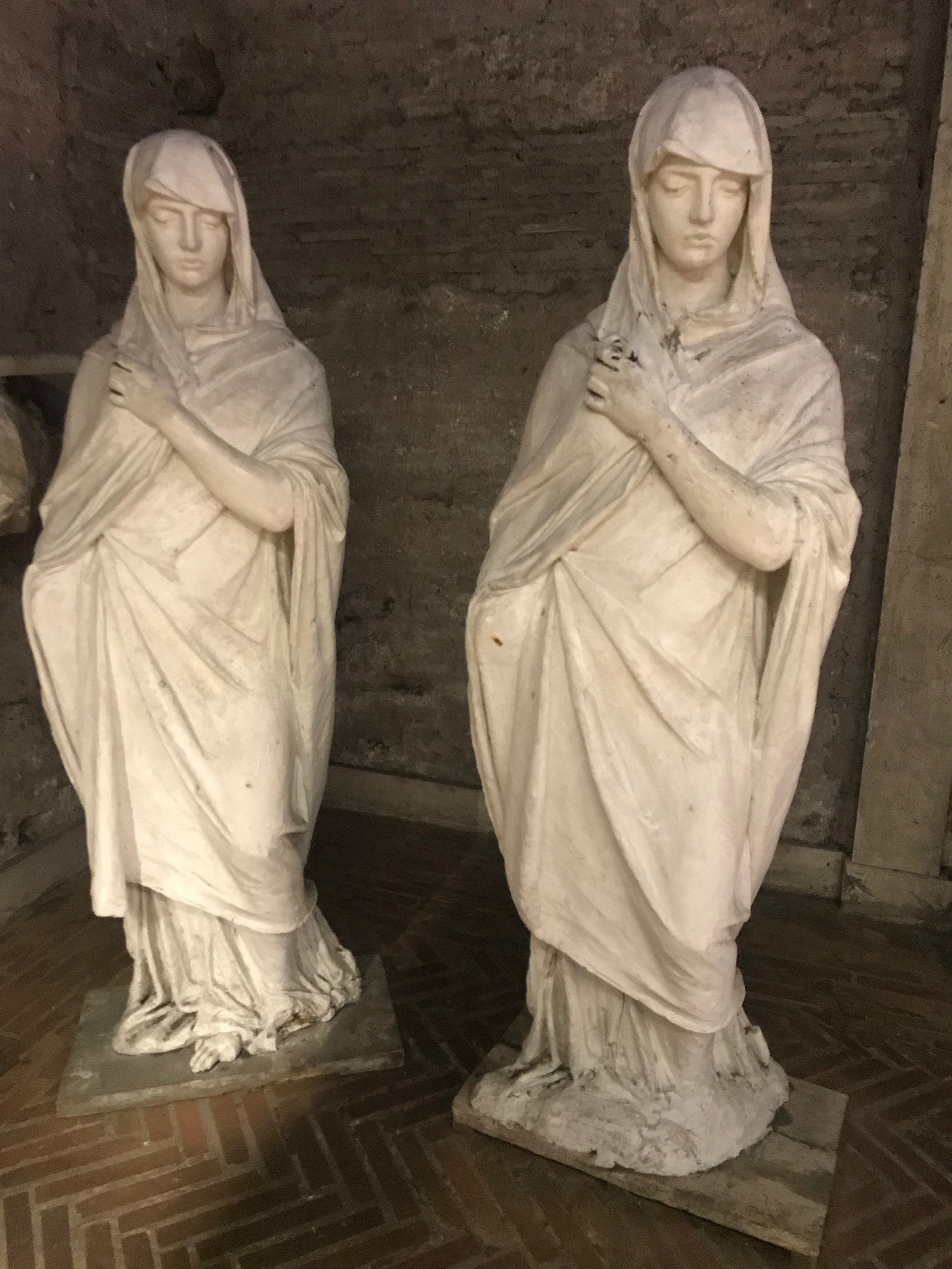 And so it remained for the next four days—an enforced vow of silence. "Silencio!" as the guards shout in the Sistine Chapel when things get out of hand. I also ended up in a convent, actually called the Hotel Picasso, reminding me of another cosmic journey in Paris, where I stayed just down the Rue Gay-Lussac from where Picasso and his not-quite-wife once lived. I loved her and hated and loved him (as did she) but that is another story for another time. This time there was to be no Last Tango in Paris, no attempted seduction—oh, no—it was nothing like that.
The room, which was a few floors up in an unmarked building on a different street than the lobby, was so small that I could nearly, with my gigantic wingspan, touch opposing walls; the shower was the size of a kitty litter box. The window overlooked some air conditioning units; the tiny bed was perfectly sized pallet for a novitiate. It was hard to find because there was no power that first day and I had to feel my way in the dark through the hallways.
Novitiate I was, though unused to long enforced silences. There was nothing to do but look around and amble about. I found, in my inbox, and invitation for a course on Finding the Goddess Within, and so, having seen goddesses at the nearby Baths of Diocletian, I signed on. It was time to find my inner goddess and never doubt myself again, to integrate my male and female strengths, so to speak and become that Fully Realized Feminine Power (as the ads go). Why not, I thought?
Also, I read a lot. Fortunately the Termini (train station) was close at hand, and inside of it, one of my global favorite bookstores (along with Shakespeare and Company in Paris and Pilgrim's in Kathmandu, but here I am getting snobby.)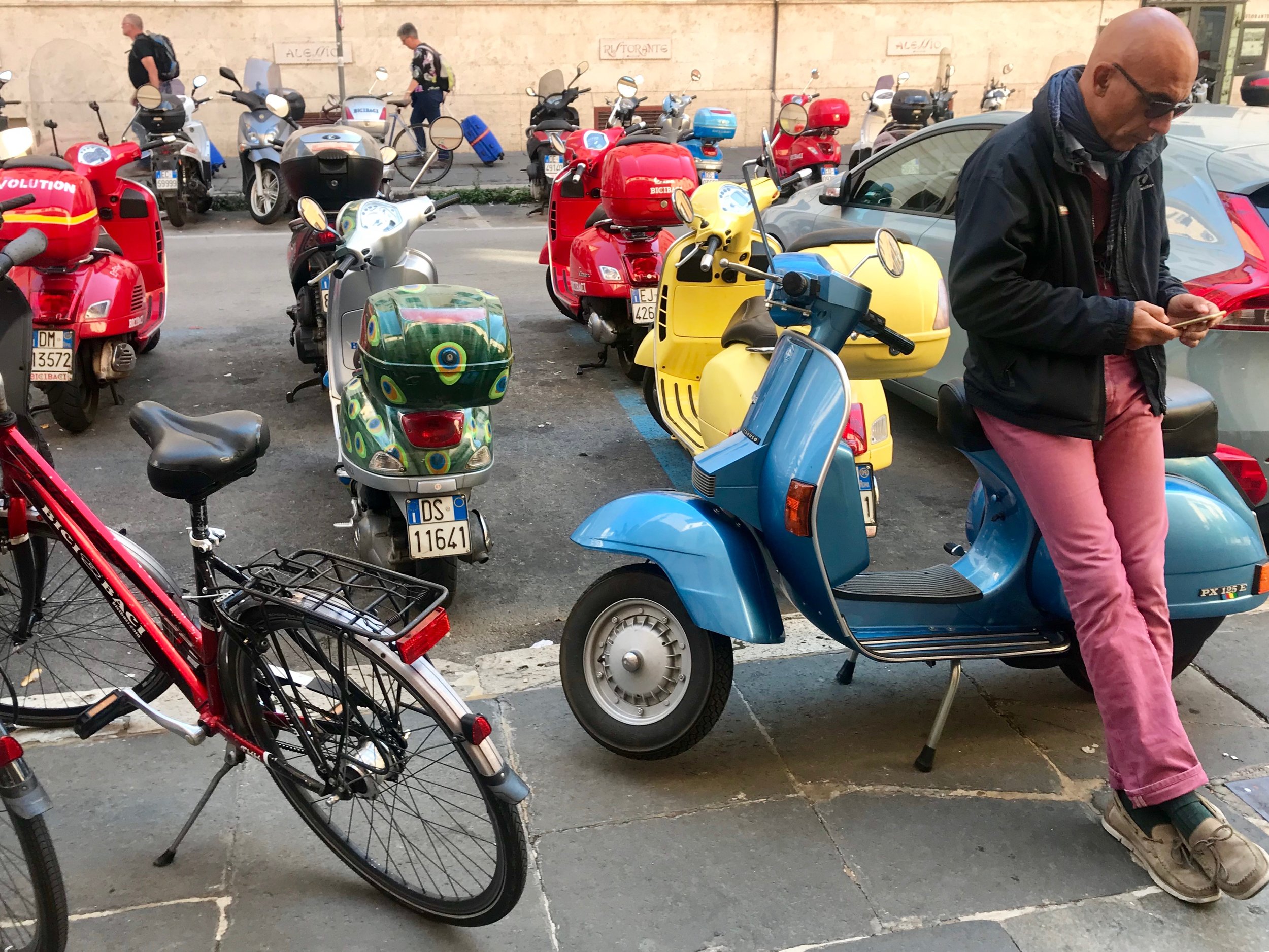 I bought SPQR, by feminist scholar Mary Beard, which teaches you everything you ever wanted to know about ancient Rome, and coincidentally, about Trump. And I got Secret Rome, a guidebook letting us all in on Rome's greatest secrets. I quickly earmarked pages. Maybe I'd go, on Sunday, to the mass in English, Italian and Aramaic, the very language that Jesus spoke, where the congregation gets together afterward. Or maybe I'd call up the guy who just may have the world's most interesting postcard collection, but then I remembered: I was voiceless.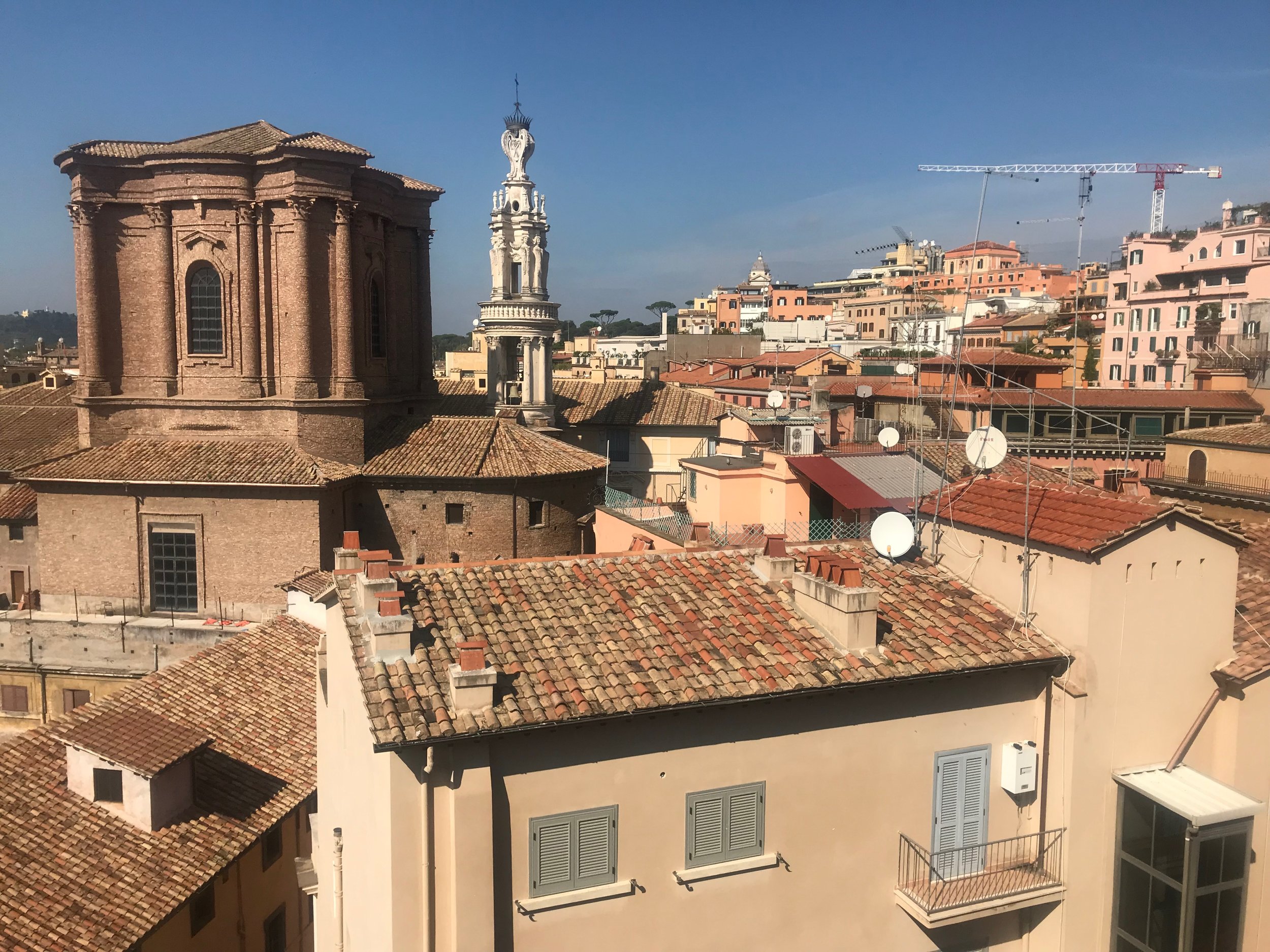 Instead, I wander. I amble. I gaze. I am chased off the Spanish steps for eating a sandwich, I buy a hip jacket at a pop up store, and trying to pass for Italian, sit alone one night at Harry's Bar outside the fancy shops nursing a $15 champagne and wearing it. I go to the rooftop restaurant of the fabulous Rinascente luxury department store wearing my scuffed pink tennis shoes and my small blue backpack with hand sanitizer and a broken watch limply dangling from the back. I order a glorious lunch, gazing over Rome's rooftops, wend my way through rows of Missoni, Chanel, and St. Laurent clothes, and take the escalators downstairs to oogle the Aqua Virgo Aqueduct from 19 BCE.
Realizing I not only don't have a voice, but I am out of energy, I barely make it back to my convent. I am filled with relief to have a place in the world, and a cave to hide in. I have wine, chocolate, and books. What more could any would-be goddess need? But eventually there is hunger and curiosity. I make it exactly one and a half blocks down the Via Nazionale and stop to read a poster outside St. Paul's Episcopal church. There is the poster of three tenors and suddenly I know I have to be there.
The doors are already closed. In the courtyard a gorgeous young English-speaking black man welcomes me, sells me a 20-euro ticket and ushers me in. The church is lovely, neither classically Roman nor quite anything else. There are words in Arabic, in the outdoor courtyard there are Buddhist prayer flags, their motto is "Bearing witness to Rome and to a dynamic and living Christian faith, open to all and rejecting no one."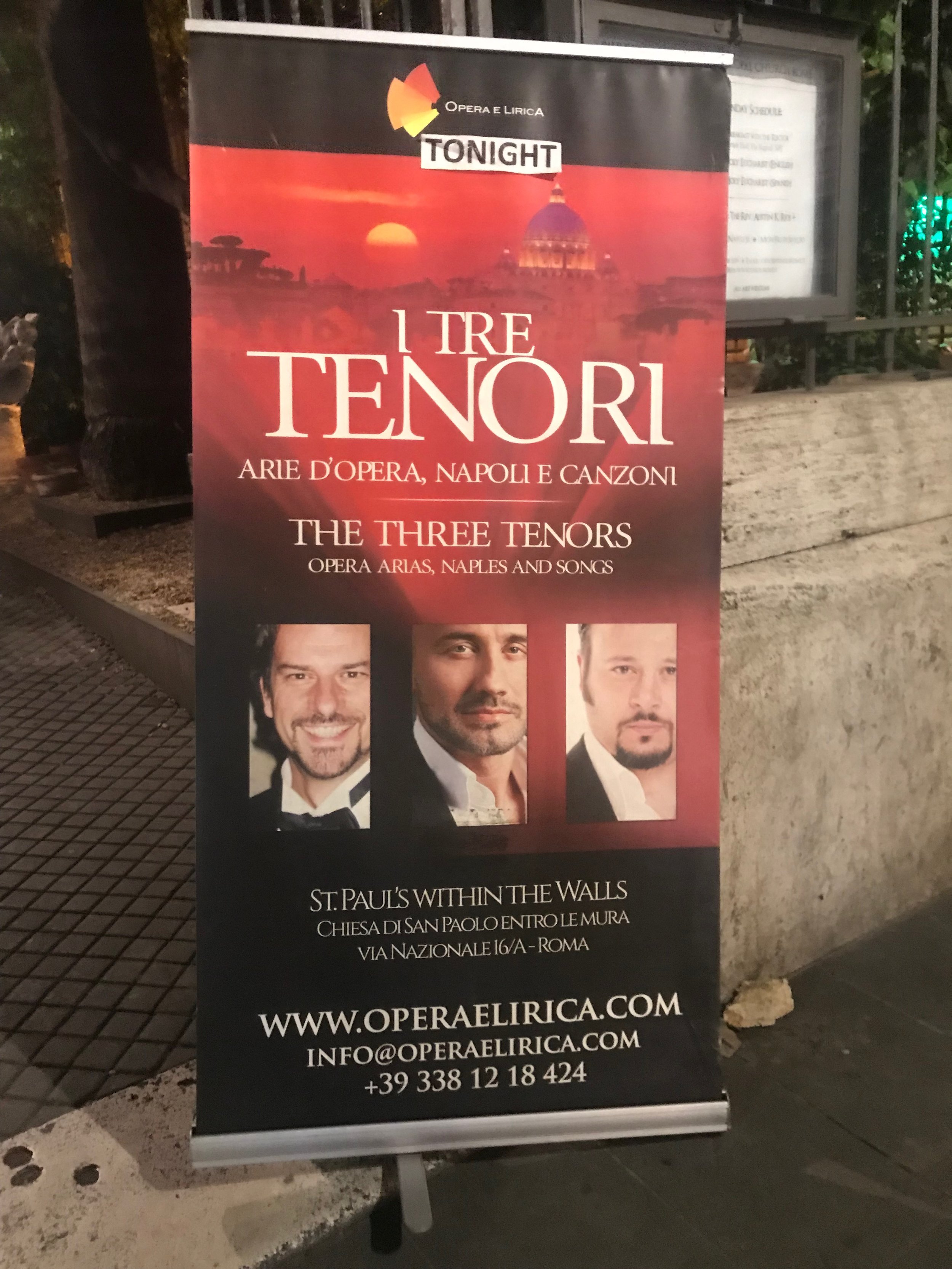 The rich male tenor voices fill the beautiful space with its impeccable acoustics. I am not hearing the music so much as it is hearing me.
It washes over and through me and I am weeping. No, actually it's more like a complete breakdown, a sobfest, like when my sister died, or when my mother died, or actually, when my father abandoned us at age fifty-two, leaving my mother with five children and the rest of us fatherless. This was forty plus years ago, and there had, at the time, been nothing for it. It was what my sister and I discussed in Rome some weeks ago, during "happy" hour. Finally. We talked about how we had extinguished our tears. Grief is funny that way. Our emotions were not expressed that way in life either with a dad, authoritarian that he was, a product of his times, a Navy veteran of Iwo Jima who never talked about it, smoked a few more cigarettes, alone in his BarcaLounger, or off riding his motorcycle into the sunset. Forever.
But I was no longer that young person. I was doing so many of the things he would have liked—like travelling. Like listening to opera on a Friday night in Rome.
Now they are singing La Traviata, his favorite, about the "courtesan, the lost, or bad woman." He played this music on a ten-dollar phonograph years ago, with a book of all the librettos in English and Italian, and the plot lines. He took me to the opera once when I was a kid, in Aberdeen, South Dakota, where he had season tickets.
…and so I have become my father's daughter.
What if we might heal some primary relationship with just a song? What if such a father could come back and say, "It is all okay." Would he, could he? Had he done just that?
There is a break and we all go out into the sweet night and I grab a couple of free limoncello and appreciate their bittersweet intoxication. Next the three tenors move on to singing the cute stuff: "amore o o/amore o o o o" the audience sings the refrain. I unabashedly belt it out, too… Well, in a whisper.
Then the three tenors go on to do their bit—their showbiz gee-whiz cute parts, playing their competition of who had the best voice. They sing O Sole Mio, they sing other things, light and heavy. They sing for me, she who now feels transformed. After all, I had not earned a reprieve so much as I had called upon the eternal feminine in order to align myself with the perfect time and place for grace to be made possible. Somehow, there is grace.
Then it's over. We are all on our feet, cheering wildly. I'm not ready to leave, so I stay and study the beautiful church with its pledge for helping refugees. I want to shake hands with the tenors to thank them, but realize that passing laryngitis on to opera singers would not be good.
Instead, I set off down the narrow Via Napoli in what I presume to be the general direction of the Cloister Picasso. It is past eleven, and the stone streets are dim. Still I feel befriended. I look over my shoulder. There is my personal favorite tenor. He sees me, raises his arm, and smiles.
I raise my hand high overhead and grin broadly back, walking on in the general direction of my convent, or should I say the home of the all-powerful goddess. My journey is soon ended and I have to wonder…
…is this why I came here?