Reading Time:
4
minutes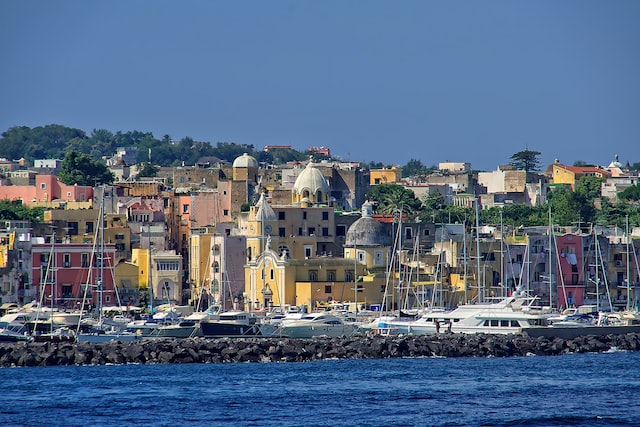 The next day, a Monday, arrives like a hangover. It is slightly rainy and gray, and everyone is gone. There is no other soul in the huge dining area where I am sent for breakfast. I quietly drink my coffee, hearing every sound of my spoon against the plate and the flakes from my croissant. Taking my towel and wearing a skirt over my swimsuit, I pass last evening's restaurant, and it and every other place is devoid of life. I swim slowly in the warm water, watching the horizon for boats, watching the shore for people. I dive under the waves and come up again like a seal, watching. No one. Nothing. Now what?
Ischia is the next island over; it is purported to be beautiful. I'll never be here again, etc–so goes the thinking. The ferry from Procida floats over the green-blue water from one pink and yellow island to the next, the pretty buildings like sugary pastel cakes seen in Italian bakeries. Ischia is like a gorgeous pool boy, lovely to look at—but what is there to say?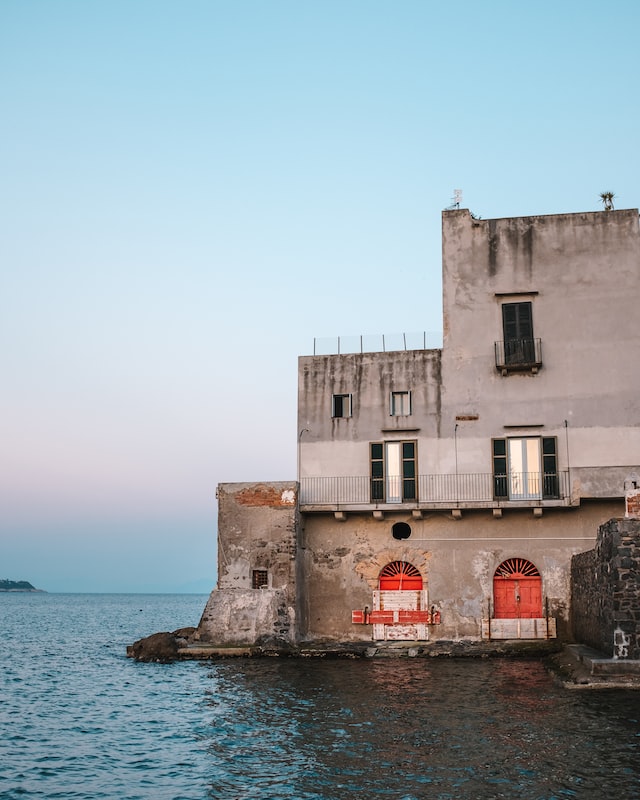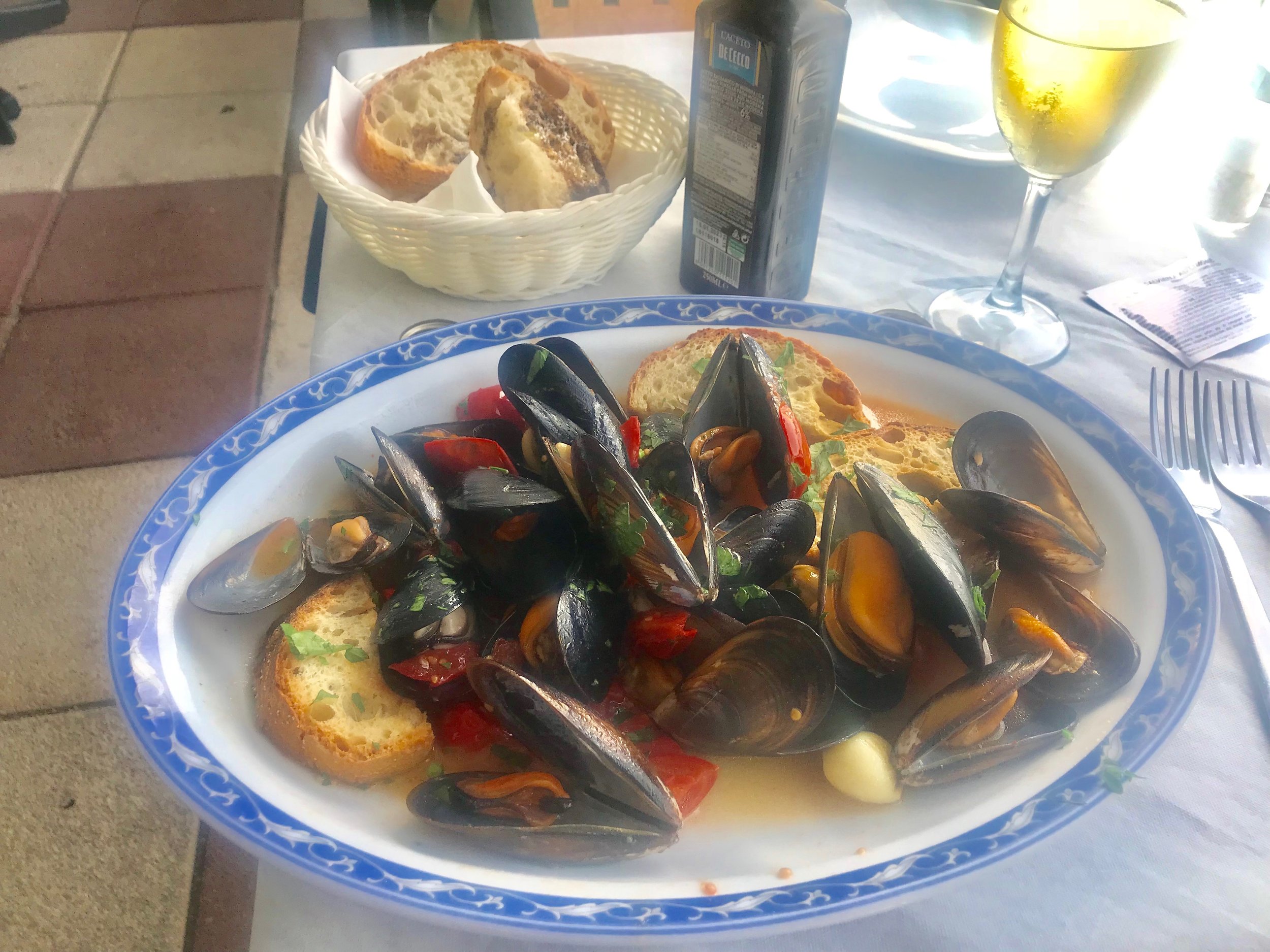 I do like my pretty pictures. I go to the part of the island, Sant' Angelo, an old fishing village where the poet Pablo Neruda lived for three years in the fifties. It is all picture-perfect, but I am over it. There is no conversation to be had. Well, aside from the handsome motorcyclist who pulled up alongside me and asked me where I was going. "Non lo so" (I don't know) I replied and to his next question, "Would you like a ride there?" I replied, "Si, certo" (of course). Another fantasy box checked.
Food, of course, is noteworthy, to say the least. Mussel soup is heavenly, the beaches divine, the bars lively. Otherwise, nada.
This is not a great place to be a single woman. German tourists swarm. They seemingly arrive in pairs, all past middle age, trying hard to see if there was any gas left in the tank, so to speak, after raising 2.5 pink children. The kinder had at last left the nest, after years of disciplining them, feeding them schnitzel, educating them, and taking them to Bavaria to hike on weekends. Throw in a motley of ill-mannered Italian youth, and you will understand how come the buses were packed cheek to groin "come sarde," joked an Italian woman to me, who knew how sardines fit into little cans. Someone suddenly peed in his/her pants on the packed bus, and I am pretty sure it was the overbearing older Italian man wearing red leather, who was weaving unsteadily and breathing heartily. I'm only saying this to underscore the sense of absurdity: beauty, isolation, weirdness, and thinking, of course, that it must be my fault—some lack of imagination, intelligence, or courage translating into a total lack of what we call fun. But after the red leather pants incident, it felt just sad and pathetic. It's actually funny in retrospect; this is exactly how the protagonist feels when, in Ferrante's novel, she finds herself quite out of her element on the stylish resort island of Ischia, and an older man does some pretty gross things.
After two days of reading (now that was heaven), I thought about fleeing? I lay on my bed and read. My mind turned south, and Sicily is as far south as Italy gets before the boot of Italy kicks it into the Mediterranean. Sicily, it seems, was always being kicked around. Enter, through the millennia, Greeks, Carthaginians, Moors, Romans, Normans, etc.). The place had been fought over, celebrated, ignored. It had a reputation for poverty, illiteracy, and, more popularly, as the home of the Mafia. Who wouldn't want to go there?
One of the most wonderful things about traveling is reading. In this case, the reading was my Sicily: An Island at the Crossroads of History, by John Julian Norwich. Since I knew nothing about Sicily (what language did they speak?)—there was lots of reading. Beset by centuries of secret sorrows and scorching sun, it would be another universe—ten hours by night ferry. Mostly, I envisioned motion sickness and the number of times I'd been the only person on any boat who was driving the porcelain bus, so to speak. Ugh.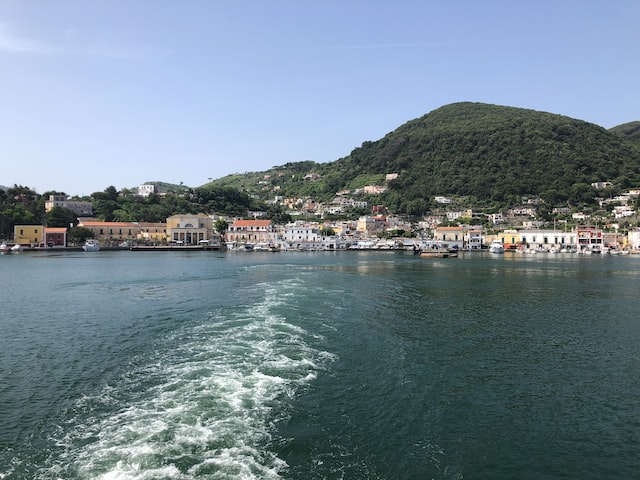 But it was simply my next best idea, and my intuition was strong. Sicily it was. I got a ferry back to Naples, and it was strangely simple. Wait a few hours. Night ferry arrives. Jump on. I befriended some French Canadians as they, too, waited for the ferry, joking about politics and life in general (they said they were building a wall). Once aboard, I stowed my things in my own clean white room with a picture window of the disappearing lights of Naples, put on some lipstick, and dragged my computer to the bar.
The common area resembled a Las Vegas casino and a bowling alley—not quite Casablanca, and all the guys were watching calico, naturalamente.
Still, the lights of Naples glimmered and blinked as the engines thrummed and we motored into the night. I slept like a baby in my sweet little bed. The wine-dark sea slid by from my window.
The rosy-fingered dawn appeared over the cliffs of Palermo, as Homer would have said. Just as in centuries past, men handled the ropes and tied up the huge hulk of the ship on the bulwarks of the pier. The ship disgorged the semi-trucks and then the mongrel hordes. I had arrived on the moon.