Reading Time:
5
minutes
The World According to Eleanor
I'm at the White House, begging. I'm trying to persuade them to let me in. I've been here often, I tell them. Eleanor Roosevelt is here. Maybe she has an attic room not far from the Bidens?
This is a dream, by the way.
She'll know what to do. About life, about death. About suffering and happiness. Eleanor will know what to do about Ukraine.
---
I awaken, taking a slow chance at writing down the dream as the sky brightens. Anna Eleanor Roosevelt gradually figured out her place in a beautiful and savage world. She lived through a war and helped people, but how did she do it?
Back in my own reality, I'm late for work. It's April, the end of ski season and ski teaching is about to end. As I drive my truck to the mountain, NPR describes Ukrainians fleeing explosions, seeking safe haven. As a blue-eyed young Ukrainian woman crosses into Poland, she weeps with gratitude at her welcome. There is a table set before her and a place to stay. Meanwhile, a young African medical student has been pushed across the border from Belarus into Poland as a political weapon. He is hungry and cold, unwelcome, unwanted.
I don't know shit about the Ukraine, but I do know about borscht.
I recently came back from the Baltics: Lithuania, Latvia, and Estonia, with forays into Finland and Poland. I wrote about borscht, and mushrooms, spruce shoots, and the Helsinki Herring Festival. We did not make it to Ukraine, though my partner does have family roots there. His Jewish grandmother emigrated from a small village called Tal'ne. We love borscht, partially in honor of her (and also because it's delicious).
Eleanor knew about such things. Jews were particularly unwanted everywhere. She worked to gain exit visas for people endangered in Europe, to help children escape bombs in London – loaded onto trains and taken away from their families for their own good. She often failed. Many times she had to sit down and shut up, take out her white gloves and drink tea with the ladies…
Along the Rio Hondo on the way to the mountain, ice glitters, and sun shines through a dusting of fresh snow. I wonder if powder skis be the choice today? Can I take my student to the peak? Eleanor loved to swim and ride horseback. She too, tried to engage people in learning by laughing, by playing.
I just finished the third book in a trilogy of Eleanor Roosevelt's biography, by Blanche Wiesen Cook. Eleanor Roosevelt was married, after all, to a politically minded president whose country was both isolationist and pacifist as Hitler tore through Europe, murdering with impunity. The U.S. had ignored its own antisemitism, and relocated Japanese-Americans to internment camps. Women were seen as valuable assets to the national workforce just up until the men returned from overseas. The hearth grew warm as the war grew cold.
Often the person telling her to sit down and shut up (in so many words) was her husband, President Franklin Delano Roosevelt. If power is only useful to help others, she learned to employ her voice when she could and bide her time when she couldn't. FDR trusted and needed her. She was his best critic, his most effective ambassador. She outranked him in the polls.
FDR was at first popular because of his generous social programs, like the CCC. When Eleanor wanted a corresponding Conservation Corps for women, it was laughingly called the 'SheSheShe'. But on the heels of a crippling depression, FDR sought to "build back better" and this new brand of "socialism" helped many families, and we are left with a legacy of trails and public buildings yet today. Are the shades of post-depression similar to now, post Covid? Stimulus checks helped, and just as we were ready to rip off our masks and take a deep breath, Putin invaded Ukraine.
Something else happened in that same moment: My first grandson was born. It was like returning to the birth of my own first son. This little human looks just like him: skinny chicken legs, soft as down, a broad chest, huge feet, identical toes. I see my son hold his new baby in his arms, in his suburban Santa Fe house. His arms look powerful, holding the tiny, swaddled infant and feeding him a bottle of his mother's milk.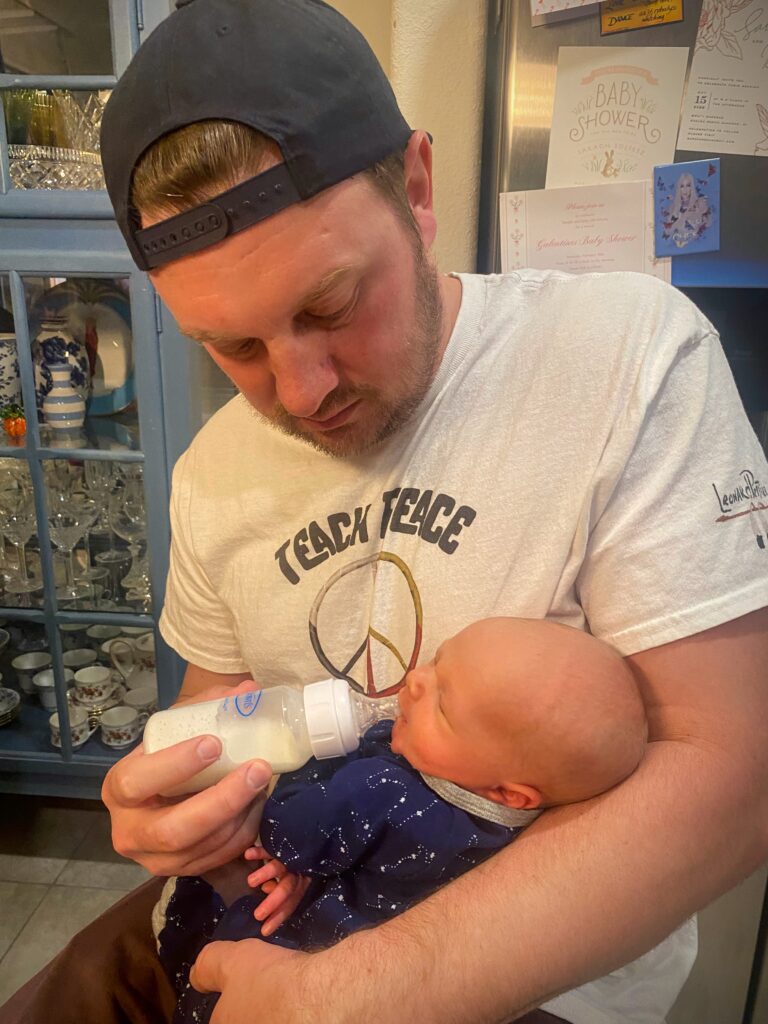 Across the chest, his T-shirt reads Teach Peace. I know that he owns this shirt because of his wish to see American Political Prisoner Leonard Peltier set free and returned to Pine Ridge, South Dakota, where we were invited to a Sun Dance with Lakota friends when he was young. Eleanor writes: "It is not enough just to talk about these things." (…or just wear a T-shirt, I guess.) She added "One must believe in it. And it isn't enough to believe in it. One must work at it."
My own writing and reflecting of my Baltic culinary tour exposed to me how many people there still live in some degree of conflict and fear. Food is just another lens into history and you can't eat anywhere without being at least a small part of the legacy of wherever you are. Two thirds of European Jews died in the War. The Soviets took over as the Nazis left. People everywhere were displaced. Food was scarce. Now, I see families in the streets after nice meals eating huge ice cream cones. During Solidarity Days in Poland, I watched people happily devour giant yellow sunflowers for the seeds. Two million people in Lithuania, Latvia, and Estonia held hands all they way across their countries after they, too, finally became independent of Soviet rule.
Eleanor did her work – for civil rights, education, economic development, environmentalism, public health, and humanity in general because they were all integrated. Just as war could not be separated from peace….
War could not be separated from peace?
Now there's something to think about…
---
She was derided as "Eleanor Everywhere."
Time magazine wrote that she challenged "the entire U.S. economic system." Yet, regarding the war, she argued "it may be necessary to use the forces of this world in the hope of keeping civilization going until spiritual forces gain sufficient strength everywhere to make an acceptance of disarmament possible. (Cook, 45)" She identified isolationism with appeasement and wondered "whether we have decided to hide behind neutrality. "It is safe, perhaps, but I am not sure that is always right to be safe."
She wrote a daily column that was blasted by those who claimed refugees were Communist, anarchist, and un-American, while other said too many of the refugees were Jews.
So while America remained embroiled in its own racism and inequality, it still held to immigration standards that left others stranded. In the war, many taverns in England posted signs reading: "No white servicemen allowed," because white American soldiers often picked fights with their fellow black counterparts.
It was not until the attack on Pearl Harbor that the United States joined the war. My father went off to the Pacific. We are forever changed by their actions, behaviors, and lingering emotional darkness. I am writing a book beginning with his war letters to my mother, and his blow-by-blow account of Iwo Jima that brings this part of history back to me – and to him.
Eleanor had a gift for focus. She kept people's eyes (and hearts) on the prize. Despite my groggy, half-waking state, I did manage to write down her words from my dream…
Compromise, but do not lose the light.
Do not allow darkness to descend.
Empathy is love.
Be an ancestor to your children.
They need you as you need them...
---
REFERENCES
Blanche, Wiesen, Cook, 2016. Eleanor Roosevelt: The War Years and After vol. III 1939-1962. Viking; Penguin Random House, New York, NY.

YOU MAY ALSO LIKE
Smithsonain Magazine: Why Eleanor Roosevelt's Example Matters More Than Ever